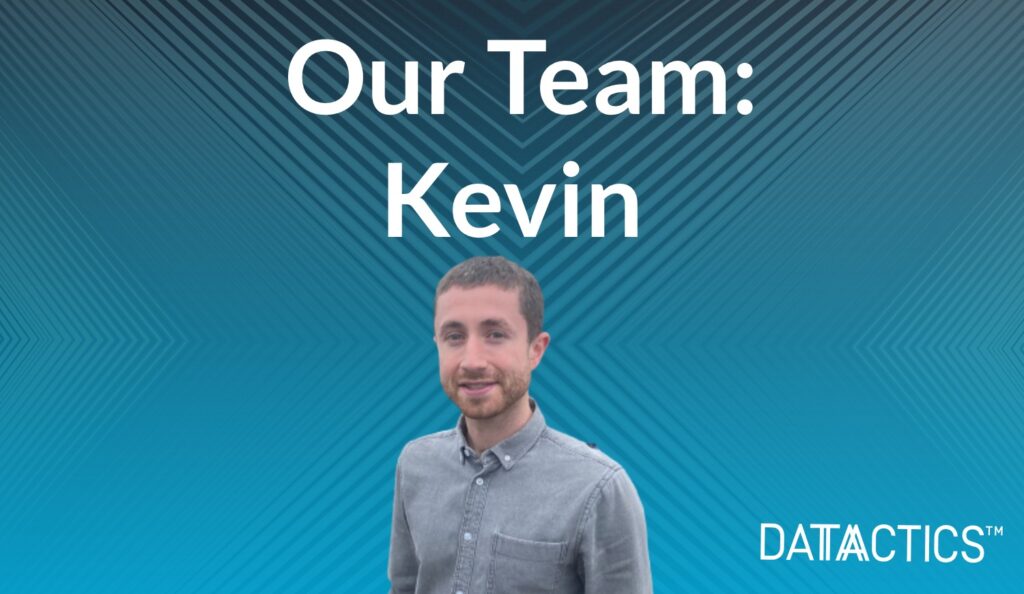 We are delighted to welcome Kevin to the team as he takes up a brand-new post with the Datactics Technical Pre-Sales team. Kevin has worked across software and test automation for the past 5 years, three of which have seen him living and working in Montreal, Canada. With a strong background in software behind him, we are excited to see him get stuck into life at Datactics. But first, we thought we would get to know him a bit better…
Hi Kevin! It's great to have you on board. What can you tell me about this role you have taken up with Datactics?
I am really pleased to be joining as a Data Management Consultant. I am particularly excited about getting involved with Presales as this will offer me further exposure to clients and their day-to-day business – something I feel that I have not had the chance to experienced enough to date in my career. Despite only being in the company for 3 days, I am looking forward to demonstrating the power of Datactics' solution. I have worked in quality assurance for the past 4 years, so I have a lot to add to the data quality conversation. Coming back to Belfast after three years in Canada it is clear that Belfast is thriving more than ever in the technology scene.
What was your background prior to this role?
Before Joining Datactics, I worked with First Derivatives for four years, after graduating from Queen's University Belfast with a degree in Computer Science. In school I was torn between selecting law and computer science – from the age of 12 years until about 17 or 18 my plan was always to pursue law at university. However, I thought that Computer Science offered me a vast and more global opportunity and as I was already good at it during school, it became a no brainer to study it beyond school.
What else did you consider when choosing to study Computer Science?
For me, I was massively interested in the area in general. I did have a natural interest in it as a child and as I grew older, I found that it was a subject I was strong at, which made me naturally spend more time at it and grow to love it more. I realised that Computer Science would offer me more versatility in roles, and I was very aware of the trend of emerging IT jobs.
Tell us about your first 6 months; what are your main goals?
In the first 6 months I want to learn the platform through and through. I am keen to expose myself to as many demonstrations as possible in the initial stages to really hone my knowledge both technically and totally grasp the benefits of our platform for the business user. I am excited to be working with experts in the field to showcase the Self-Service Data Quality (SSDQ) platform – as time goes on, I would hope to lead some of these exciting demonstrations and if there was an opportunity to travel, I would surely snap that up! The Pre-Sales team is growing rapidly, and I am really looking forward to being a part of the team's success. As I grow in expertise and knowledge, I will grow in confidence in my ability to convey the capabilities of the solution.
Coming into the role, what challenges do you think you'll face?
As I alluded to earlier, there is a lot to learn! I need to learn the solutions inside out. Of course, there will be the initial nervousness surrounding covering all the training and ensuring I am knowledgeable enough to engage effectively with any possible scenario the client throws at me. My goal is to ensure that I am collaborating with others and offering support where needed, whilst conveying the power of the platform in everything I do.
What were your first impressions of the company?
I am really looking forward to getting involved with social activities in the company. I have already been add into more group chats and slack channels than I can count! I have so far participated in the fortnightly football and am looking to getting involved with the movie club, the book club and I hear the company is partial to a good quiz or two.
From the minute, I have started I have felt so welcomed by everyone. It's been a brilliant first few days and I am excited to work with everyone!
Thanks, Kevin, for taking the time to chat with us. It was great to be able to hear about your passions and your career journey to date. We look forward to hearing more from you soon!
Click here for more by the author, or find us on Linkedin, Twitter or Facebook for the latest news.