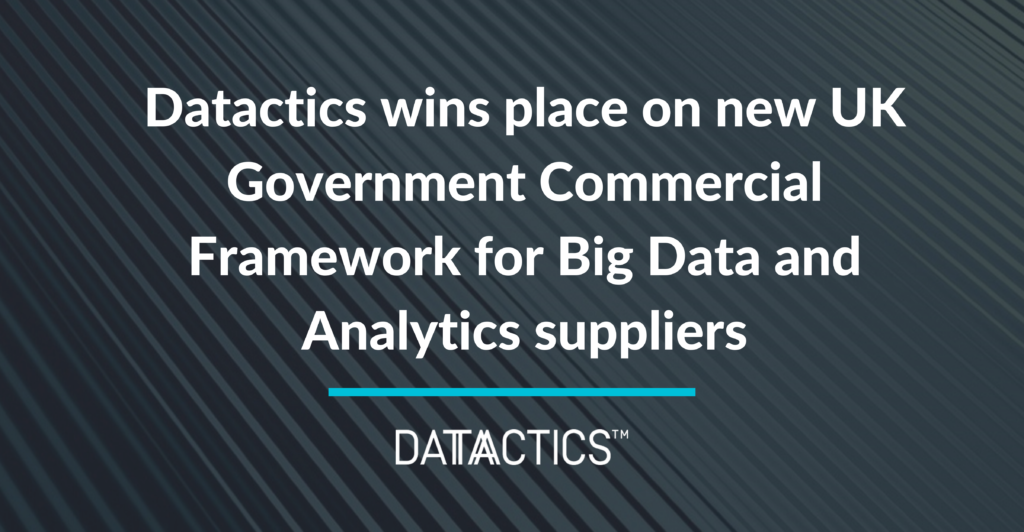 Datactics, providers of a self-service data quality and matching platform in partnership with the UK Home Office and national police forces, has announced that it has been chosen by the Crown Commercial Service (CCS) to be a supplier for its Big Data and Analytics procurement framework.
The agreement offers an opportunity to public sector organisations to access both bespoke professional services and commercial 'off the shelf' software specific to data and analytics.
The framework, which is due to run between 2022-2024 (with possible extension until 2026) has been allocated a potential spend of £2bn and is designed to support the creation of intelligent data and analytics functions across the UK public sector.
Datactics has been awarded a spot on Lot 2: Commercial off-the-shelf (COTS) Software, supplying their AI augmented data quality solutions to address challenges in big data management, particularly in data quality and matching.
Stuart Harvey, CEO at Datactics, has said,
"Being part of this commercial framework is mutually beneficial for us as a supplier and also for the UK public sector more widely in powering data transformation. Having access to companies like Datactics will provide government departments and their related bodies with the opportunity to engage with specialists in the field of big data and analytics, without having to build technological capabilities from scratch. At Datactics, we're experienced in delivering projects for public sector through our current work the UK Home Office on the National Data Quality Improvement Service (NDQIS), developing a nationwide, highly scalable, private cloud-based system for crime classification and reporting. We're proud to have won a place on LOT2 and look forward to engaging with the public sector and building on our existing relationship with the public sector."
About Datactics
Datactics provides AI-augmented self-service data quality and matching software, empowering CDOs, CIOs and data leaders to rapidly measure, match, report and fix data assets across financial services and public sector.
Solutions are data-agnostic and offer interoperability with data lineage, governance and metadata management tools, especially critical in the deployment of data fabric and data mesh architectures.
Our team of data engineers provides fast and robust implementation services to help get data initiatives off the ground and secure buy-in across the enterprise.
Read more here for information on the National Data Quality Improvement Service.
Contact: Roisin Floyd