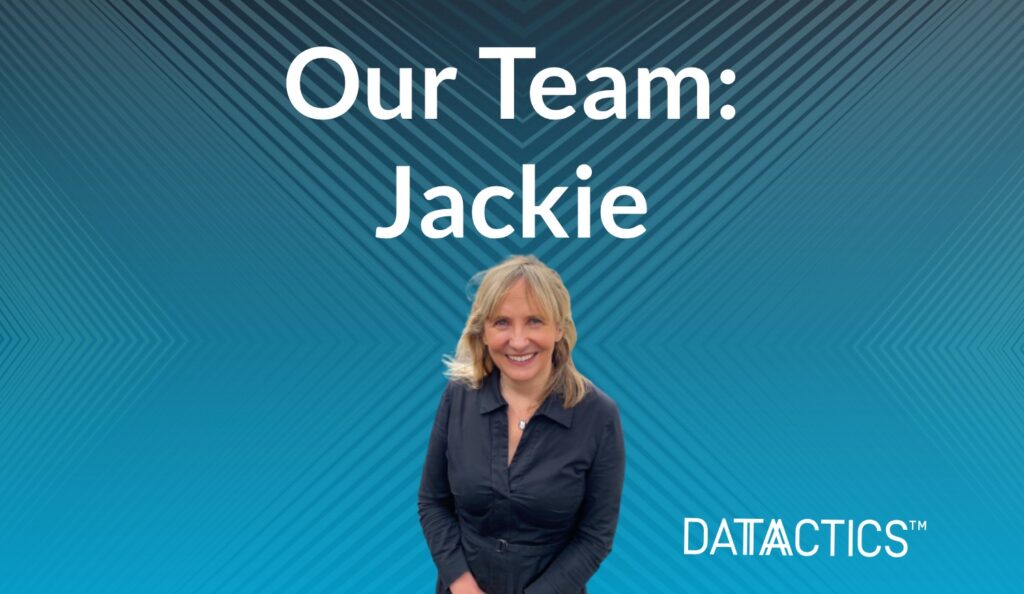 Jackie Devine began working with Datactics just under a year ago, meeting up with the team at Belfast's Hubflow shared working space. In the time since she has joined, she has been actively involved in establishing a dedicated sales function for new GovTech business, supporting the establishment of a partner network, and improving operational processes for qualifying, winning, and delivering IT services.
We thought we would sit down with her and discuss how she got into the world of tech, what motivates her, and what she considers to be her biggest career highlight. Let's dive straight in…
To begin Jackie, could you tell me a bit about your background, what did you initially study?
I studied Mathematics at Queens University Belfast. Maths was the only subject I was really interested in, but I had to pick 6 modules and unfortunately there weren't 6 Maths modules available, so I had to select something from Astronomy, Psychology or Computer Science. In 1983, there were no computers in schools, so I had never touched a computer! I took a leap of faith and decided to pick Computer Science as I had no interest in the other two options. I very quickly realised that Computer Science was easier than Maths and much more fun! I ended up doing a joint honours degree in Maths and Computer Science.
What pushed you towards Mathematics in school?
I was always very conscientious and I never would've left homework till the last minute. I adored mathematics, it got my brain warmed up to do the other subjects that I felt were boring! I enjoyed the logical nature of it and because it was a subject I was good at, I tended to get a kick out of trying to get it 100% right every time.
Upon completing the degree, what did you do next?
I did the Graduate Milkround and applied for several positions across NI and England. One of the roles I got offered was for a software house just starting off called Kainos; at that stage no one had ever heard of it before, and it only had a small number of employees. I remember getting in touch with a former lecturer and saying to him I have been offered a role in a multi-national company, as well as a role in Kainos, which would you pick? His advice was to go the software house as the opportunities to work on software engineering projects would be far greater. I took this advice and was one of the first intake of six graduates!
I then began a career in Kainos that would span over 30 years, where the first 10 years were spent coding and managing projects. After this, I moved into resource management, a role which I undertook for 5 years up until the company had around 300 people. I was responsible for ensuring that every employee involved in coding and delivery was busy and funded on project work. The thing I loved most about the role was the recruitment side and that people would come to me looking for new opportunities or a new project; it was my job to try and facilitate their requests and match project needs at the same time. I would say the highlight of my career was being able to find the right opportunity for a person and watching them thrive; seeing them develop into really accomplished individuals and leaders in their own right was truly satisfying.
What do you think is the biggest challenge in your role at Datactics?
To me I always want to bring value, it's something I have sought to do every day throughout my entire career. At Datactics, learning the platform and its applications have definitely been the biggest challenge but I have had the opportunity to get involved with recruitment, higher-level management strategy, the public sector element of the business, as well as implementing commercial rigour into project delivery teams – all learned over the past 30 years in the industry.
What do you think about female representation in technology? What do you think can be done to increase the number of women entering the industry?
I think going into the schools is needed to solve this problem. When I was working in recruitment previously, I used to attend recruitment fairs and deliberately walk up to young girls and ask them if they would consider a role in an IT company. I remember them being very unenthused by the idea, which I think could potentially be solved by better career advice… I think career advice needs to reflect the growing and diverse opportunities in the tech sector. There are more and more roles in the sector that require a range of different skills, not just computer science and coding skills – the opportunities are endless! I think for everyone, whether you are IT literate or non-IT literate, there are great opportunities to get involved with growing tech companies just like Datactics that offer a diversity of roles.
Thanks for the great chat, Jackie, we are delighted you have joined us!
Click here for more by Datactics, or find us on Linkedin, Twitter or Facebook for the latest news.